Fixed Asset Management
FALCON ERP Fixed Asset Management provides up-to-date, real-time information regarding the value of all assets within the organization by keeping a record of depreciation and current asset values, and a facility that evaluates the remaining worth by tracking income and expenditures derived from assets.
The FALCON ERP Assets Management system enables you to manage and control your non-current assets in terms of wear and tear depreciation, book value, disposals, additions, and re-valuations. The information contained in the Assets Register can integrate to the General Ledger, or be run standalone. You can optionally record costs incurred in the maintenance of assets against the individual asset concerned. These costs can be broken down over a number of expense codes.
We are redefining the management of Assets to the big /small organizations. The Assets with complete details like brand, model, supplier, serial no, Asset Value, Location, Owner, Asset Disposal details, Purchase date, Warranty tracking, Insured value, revaluation, department, cost centre, Type of Assets, Depreciation calculations.
Extensive valuations and revaluations can be performed on your assets and an import facility enables you to generate your assets register by importing asset details created by FALCON ERP.
Benefits:
Maintain a register of all assets and their locations
Track expenses incurred for any asset
Calculate depreciation
Track maintenance history for each asset
Obtain estimates of the remaining useful life of an asset
Report on disposals, revaluations and/or acquisitions
Provide detailed reporting and screen queries
Provision for initial and investment allowances
Manage capital expenditure items
Define fixed depreciation rates
Manage Equipment Maintenance
Schedule maintenance activity and process maintenance expense
Integration to FALCON ERP Manufacturing Module
Added Advantages
You can schedule maintenance on assets, and view service history jobs and costs.
Insurance details are recorded, along with when the insurance cover expires.
Free format comments can be recorded in a Notes file for each asset. You can record the Asset's options that are attached to it
Extensive search, list and print facilities are provided on both the main Asset Register file, and the various enquiry files.
Search analysis is available by Type, Make, and Model of asset, and also by Employee.
A full transaction audit trail is maintained to show all purchases, adjustments, disposals, plus the monthly depreciation postings.
Asset disposals are linked to the Cash Receipts transaction file. It will calculate depreciation recovered and any resultant capital gain/loss.
The system's fields, menus and reports can all be personalized to suit individual requirements
Asset tracking
FALCON ERP asset tracking assists organizations improve the visibility of their fixed assets by enabling them to automate fixed asset inventory audits, locate assets, and track the movement of assets in real-time. The module centrally manages; - what asset you have, where they are, who use them, and all cost associated to the item.
FALCON ERP asset tracking makes it simple to manage your organization's valuable assets and inventory into one complete, cost-effective, easy-to-use application.
The current "User" of the asset can be linked along with the Division and/or Department. The physical location can also be recorded.
The current status of the Asset shows whether it is in current use, in repair, or disposed of.
Comprehensive, reliable and efficient asset tracking.
Provides tracking, visibility and control of dispersed assets
Maximizes asset utilization and return on investment by automatically synchronizing the operations
Helps organizations to achieve a single source of truth for enterprise assets while reducing the total cost of ownership.
Helps organizations improve the visibility of their fixed assets
Track ownership and product information such as serial numbers and installation dates
Maintain Asset Barcode information in asset register.
Print asset label with barcode printer.
Use asset label to identify asset unit
Predefined barcode scanning program facilitate the asset tracking.
Upload the updated asset information from the barcode scanner.
Reporting
Asset Detailed Report
Depreciation Detailed Report
Asset Summary
Asset-wise Insurance and AMC Report
Physical Stock Report
Re-valuation Report
Complete audit trails include transaction journals, list of additions and disposals, and General ledger Distribution reports
Produce asset movement reports
Report on revenue costs
Asset Tracking Reports
Generate book value schedules
Extensive Options
Main Features:-
Multi-period accounting.
User-defined retention of history.
AMC Tracking option.
Insurance tracking option.
Picture and attachment documents option.
Revaluation of Fixed Assets.
Asset Branch or Location transfer.
Fully or partially dispose of assets.
Asset count process include labels with bar codes.
Posting option for monthly provisions to the General Ledger.
Assign assets to individual branches and/or user-defined groups and types.
Attach sub-assets to other assets.
Split to other assets.
Group assets for reporting purposes.
Define variable depreciation rates.
Record revenue and expense transactions for any asset quickly and easily.
Document and track maintenance or repair time against each asset.
Depreciation tables.
Transferring assets from one location to another.
Calculate book depreciation and tax allowances using:
Straight line - fixed and varying % per year varying % per month.
Estimated useful life - fixed or statistical.
Remaining value over remaining life.
Determine profit or loss on the sale of any asset
Temporarily suspend depreciation if asset is out of commission
Main Modules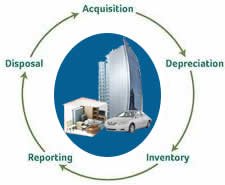 FALCON ERP Fixed Assets module for ERP provides total command and control over your entire fixed asset life cycle - from acquisition to disposal. Easy to install, customize and use.FALCON ERP delivers powerful, easy-to-use fixed asset management solutions to businesses of all sizes.
More than 700+ Reports
Accounts Statements
Combined Statements
Aging Statements(Days-wise /Month-wise)
Daily Transactions
Bank Transactions Reports
Cash Transactions Reports
Journal / Debit/Credit Note Reports
PD Cheque Reports
Pre-Payment Reports
L/C & T/R Reports
Trial Balances
Income / P &L Statements
Balance Sheets
Stock Reports
Purchase Reports
Sales Reports
Transfer Reports
Physical Inventory Reports
Conversion / Assembly Reports
Top Management Reports (MIS)
Additional Modules Reports